Tribute to a little filly with a heart of a lion - Perfect Bliss
Oct 03, 2016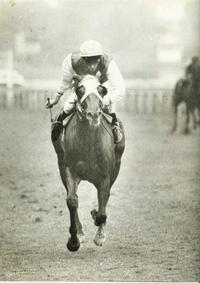 As we approach The Thousand Guineas this Saturday, I would like to share a story about a very special filly by the name of "Perfect Bliss" who took all before her 33 years ago.It was 1982 and Eddie Laing went to the Melbourne Sales with Simon and Denise Sher and purchased a very expensive Grey filly by Sharp Edge. I was assigned the task of breaking her in and it was a disaster. She would rear, run backwards and was just a horrible filly. Needless to say, Sharp Edge progeny were black banned! Twelve months later, a client of ours, Mrs Phyllis Moore had a filly she half owned with John Sudak. It was passed in at the sales and Phyllis was on the phone to Sylvia Laing and asked if Eddie would like to train her filly. Once Eddie heard it was by Sharp Edge he said he was full up, but his son Robbie has just started training and he would like to train it! Phyllis said that was fine, but the horse has a problem....it rears and runs backwards (yep just like the other one). Anyway, she arrives and is very small, only 14.3hh, but was a quality type with a beautiful gleaming red chestnut coat. I put saddle on her, jumped on and we only went 20 metres and sure enough she reared, fell backwards and landed on top of me. A builder was nearby and happened to have some black poly pipe. He came over and handed it to me, so I jumped back on and as soon as she reared again I smacked her between the ears. She shook head and never did it again.

I soon found out she had plenty of ability. Her first trial was at Epsom where she won her trial narrowly but on the bit in a field of 12. Next trial was at Pakenham where she won easily with Eddie's apprentice, David Mohi on board. She drifted off the track but the signs were good. She commenced her career mid-week at Cranbourne, Pat Hyland in the saddle. Won by 4 lengths but still ran off the track badly. Next start off to Flemington up the straight over 1200m with Danny Brereton on board. Was headed but came back and won narrowly. Nothing special but still a nice win. Third start off to Caulfield, led all the way for Danny and won easily. Danny was then suspended so the following week we go to Moonee Valley where she had top weight. Michael Clark took the ride and came in at 56kgs. Again she won easily. Back to Caulfield, drew 18 and had 62kgs so we took the claim with P. Davis and came in at 59kgs. Led all the way, won easily by 5 and still ran off the track. Then at her next start at Caulfield she lumped 62.5kgs and won again. Six in a row! Then at her final start I took her to SA (wished I never done it) where she tasted her first defeat. Ridden by veteran jock, Des Coleman in the SA Stakes, he failed to let her run off the track in the home straight and that was when she was at her best- when she was running half sideways. Off to the paddock for a well deserved rest.

Second campaign and first up we took her to Sandown where she ran in an Open Sprint, beaten narrowly by Solo Affair. She did very well in the paddock and needed the run. Second run in she came third in the Leilani Stakes at Moonee Valley. Her next race was supposed to be the Edward Manifold, however I felt she needed the extra run so I ran her in a normal 1200m 3YO Fillies at Moonee Valley where she had top weight. Steven Smilie claimed 3kgs and she won by 4 lengths with her head on her chest. Two weeks later off to Flemington for her first attempt at 1600m in the Edward Manifold where she ran off the track and was narrowly gathered in by Taj Eclipse who was ridden by D. Gauci and provided him with his first Group win.

Next stop The Thousand Guineas where she was pretty much unbeatable around the corner. It was her second try at a mile and she was in the zone. She led, dashed clear on the corner and won by 5 and a half lengths coming down the outside running rail. She provided me with my with my first G1 winner and beat some impressive fillies that day including Taj Eclipse, Raging River and Mapperley Heights. She backed up two weeks later in the Cox Plate and ran a credible 7th, only beaten 6 lengths by Strawberry Road. She was in the race until the home corner and Emancipation and Sir Dapper came together and took her legs from under her, otherwise she would have finished a lot closer.

There was a dispute in the ownership and she went to the sales. Part owner, John Sudak brought her back for $375,000 and Mrs Moore and myself were now out of the equation. She had a further 12 starts for John Sudak's private trainer, Ian O'Neil and she failed to win another race. She then had plenty of homes as a broodmare and had a spattering of success. As a 20 year old she found her way to Ian Pankhurst's, Ballarto Lodge at Pakenham South where she had two more foals before being retired as a broodmare at 25 years of age. I then was driving past the stud and thought I recognised her. I crawled through the fence and wet the hair on her left shoulder where there was a NS standing for Nicholas Sudak son of John. She looked old and unwell. I asked Ian Pankhurst could I take her and look after her for the rest of her life.

We picked her up and she came and lived with Rachael, myself and our three girls at our property in Cannons Creek. She was 27 years of age and we have some lovely photos of the girls riding her around in her twilight years. She eventually succumbed to a liver disease and died in my arms while being peacefully euthanised to end her life of 29 years.

She was a battler right to the finish. She was only little but had a heart of a lion.

RIP Perfect Bliss.