Jayrod Too
---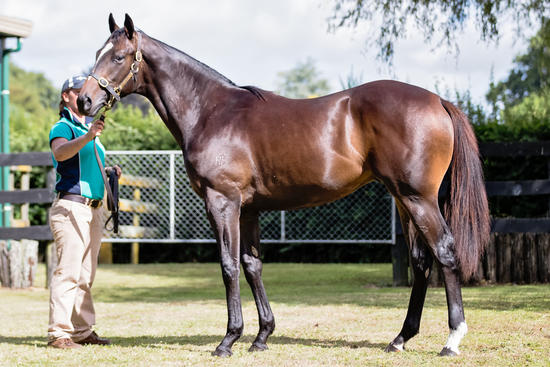 Sire: Pentire
Dam: Shanpanichi
Colour: Bay
Gender: Colt
Age: 4 year old
Foaled: Oct 20th, 2016
Country: New Zealand
Silks: Black, Red And White Hooped Sleeves, Red Apple, Quartered Cap
---
Owners
R H Montague, Mrs S M Montague, S R Montague, T M Montague, Mrs R McLeod, G McLeod & E W Laing
---
Career Record: 7-1-0-0
Prizemoney

$28,450.00

Wins

14.3 %

Place

0.0 %
---
Pedigree
BAY COLT (NZ)

Foaled 20th October 2016

---

| | | | |
| --- | --- | --- | --- |
| Sire | Be My Guest | Northern Dancer | Nearctic |
| PENTIRE (GB) | | What a Treat | Tudor Minstrel |
| 1992 | Gull Nook | Mill Reef | Never Bend |
| | | Bempton | Blakeney |
| Dam | Fusaichi Pegasus | Mr. Prospector | Raise a Native |
| SHANPANICHI (AUS) | | Angel Fever | Danzig |
| 2006 | Chandon Rose | Flying Spur | Danehill |
| | | Rose Twig | Twig Moss |

---

PENTIRE (GB) (Bay 1992-Stud 1997). 8 wins-1 at 2, Ascot King George VI & Queen Elizabeth Diamond S., Gr.1. Champion NZ Sire (AEI) 2005-06. Sire of 1089 rnrs, 693 wnrs, 48 SW, inc. Xcellent (New Zealand Derby, Gr.1), (King) Mufhasa, Xtravagant, Zarita, Rangirangdoo, Pantani, Say No More, Prince of Penzance, Art Success, Recurring, Chenille, Pentane, Penny Gem, Volatile Mix, Ferlax, Markus Maximus, Pentathon, Tinseltown, Pentastic, Zanna, etc.

1st dam

SHANPANICHI, by Fusaichi Pegasus. 3 wins to 1200m, SAJC Sivcorp Solar H., 2d SAJC Irish Day H., 3d SAJC Cleanevent H., Goodwood Day H. Sister to Ladysea, three-quarter-sister to Danpegi (dam of ROSE OF CHOICE), half-sister to RISING EMPIRE. This is her fourth foal. Her third foal is a 2YO. Dam of two foals to race-

Easy Beast (g. by Super Easy). 2 wins at 1000m, 1100m in 2017-18, SAJC Ubet H., 2d MRC Chef's Hat 2YO P., 3d MRC Bill Collins 2YO H.

Dontlookdownonme (g. by Henrythenavigator). Placed to 2018, 3d Singapore TC Class 4 H.

2nd dam

CHANDON ROSE, by Flying Spur. Raced twice. Three-quarter-sister to ROSE OF DANE, half-sister to Yes It's True, Sydney Rose (dam of RAZZLE DAZZLE ROSE). Dam of 9 named foals, 8 to race, 5 winners, inc:-

RISING EMPIRE (Dehere). Champion 2YO in Singapore in 2012. 6 wins to 1400m, 74,675Rgt., S$335,682, Singapore TC Magic Millions Juvenile Championship, L, Magic Millions National Yearling 2YO S., Progressive S., Recast S., Care & Share P., Kranji D S., 2d Penang TC Malaysia 3YO Championship Heat 2, Singapore TC Magic Millions Adelaide Yearling S., Class 4 H.-twice, 3d Singapore TC Kranji C S., Class 4 H., Kranji D S.

Ladysea (Fusaichi Pegasus). 3 wins from 1300m to 1650m, WATC Facebook.com Perthracing H., Perth Ice Works H., 2d WATC Westspeed 3YO H., 3d Western Australia Oaks, Gr.3, WATC Golden Square H., 4th WATC Belmont Classic, L.

Shanpanichi. 3 wins. See above.

Ourfightingharada. Winner at 1150m in Aust.

Dehere I Am. Winner at 1200m in Aust.

3rd dam

ROSE TWIG, by Twig Moss. Unraced. Half-sister to Rose Aura (dam of HURRICANE WARNING). Dam of 10 foals, 9 to race, 5 winners, inc:-

ROSE OF DANE (Danehill). 5 wins-1 at 2-to 1500m, A$247,140, VATC Summoned S., L, Inglis Premier Yearling Sales H., Computershare P., VRC Nursery Car Park H., WATC Admiral Lincoln H., 2d WATC Karrakatta P., Gr.1, VRC Edward Manifold S., Gr.2, VATC How Now S., L, 3d MVRC Anthea Crawford S., Gr.2, WH Stocks S., Gr.3, 4th VRC Wakeful S., Gr.2, WATC Sires' Produce S., Gr.3. Dam of-

Lauradane (General Nediym). 2 wins-1 at 2-at 1200m, 1400m, A$205,600, WATC Westspeed Nursery H., Westspeed 3YO H., 2d Western Australian Guineas, Gr.2, WATC Ascot One Thousand Guineas, L, Belgravia S., L, 3d WATC Burgess Queen S., L, Westspeed Nursery H., 4th WATC Champion Fillies S., Gr.3.

Marseille en Fleur (Swiss Ace). 2 wins at 2, A$86,800, in 2016-17, BRC Darley Kingsford-Smith Day 2YO H., Sky Thoroughbred Central 2YO H., 2d Qld Tatt's RC Winning Edge S., L, 3d BRC Weddings 2YO P., SCTC Coolum Getaway Resort P.

Danpegi. Winner at 1800m, STC Punters Package H., 2d AJC RAAF H., WATC Tip the Pro H., 3d STC Konica Minolta H. Dam of-

ROSE OF CHOICE (Choisir). 7 wins to 1400m, A$300,068, WATC Jungle Dawn Classic, L, Perthracing.com.au H., Workit Workwear H., Kellys Kay's 60th Birthday H., 2d VRC Hong Kong Jockey Club S., Gr.3, WATC Jungle Mist Classic, L, La Trice Classic, L, 3d ATC Nivison S., Gr.3, WATC Tabtouch.mobi H., PR Membership Now Available H., 4th BRC Dane Ripper S., Gr.2, MRC Summoned S., Gr.3.

Yes It's True (Is it True). 9 wins-1 at 2-to 1400m, A$119,810, 62,770Rgt. in Aust. and Malaysia, Singapore TC Class 1 H., WATC Club Champion P Mann Welter H., Exploration H., Easter P., Soothers Welter H., Deep Spring H., Toyota Corolla 2YO H., 2d WATC HG Bolton Sprint H., L, Key Dancer Welter H., Nearco Welter H., 3d WATC Penang Turf Club Trophy H., Tusitala Quality Sprint H.

Sydney Rose. 5 wins at 1600m, 1900m, R165,020, 3d Arlington Jockey Club S. Dam of-

RAZZLE DAZZLE ROSE (Jet Master). 6 wins from 1200m to 2000m, R509,098, Greyville Gold Bracelet S., Gr.2, Kenilworth Victress S., Gr.3, Greyville Van der Vyver Racing H., Kenilworth Mortgage Max H., 3d Scottsville Soccer 6 P., Kenilworth Wilgerbosdrift Triple Tiara Day P.

Relentless Storm. 3 wins at 1400m, 1600m in South Africa. Dam of-

Prince Jazeem. 5 wins to 1400m, R385,575, Turffontein Emperors Palace International H., WPT Emperors Palace Poker Classic Day H., Racing Association H., Vaal Soccer 6 P., 2d Vaal Rugby 5 H., Itsarush.co.za H., Racing. It's a Rush H., 3d Vaal Soccer 6 H.